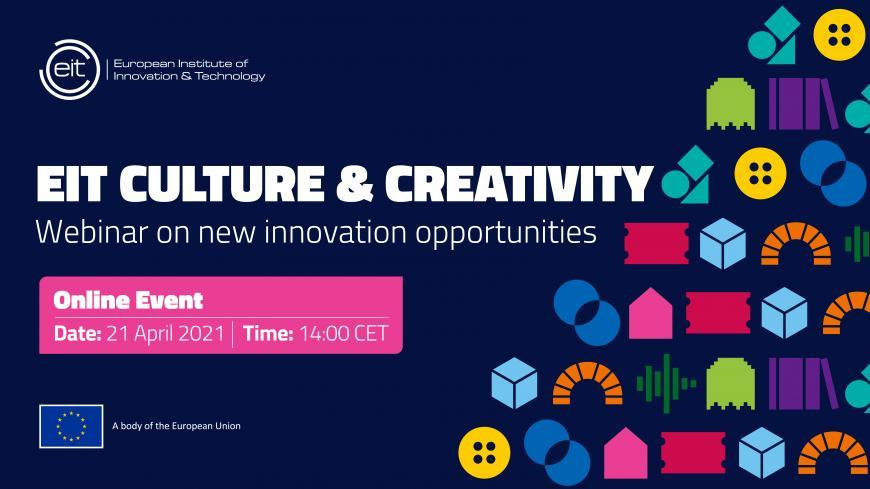 Description
21 April 14:00 - 15:30. Do you want to join Europe's largest innovation network? A new opportunity for Cultural & Creative Sectors and Industries stakeholders is on the EIT horizon!
Join the European Institute of Innovation & Technology (EIT) for this webinar on 21 April at 14:00 - 15:30 (CET) to:
Learn about the EIT's upcoming Call for Proposals to boost innovation in the Cultural & Creative Sectors and Industries
Discover how organisations from business, higher education and research can be involved
The event is organised under the auspices of the Portuguese Presidency of the Council of EU.
About the webinar
This webinar will inform CCSI stakeholders about the EIT, the upcoming Call and help understand how to become part of a consortium. It takes place on World Creativity & Innovation Day: 21 April from 14:00 to 15:30 Central European Time.
Participants will hear about the EIT's innovation approach, how CCSI will innovate with the EIT and insights into how an EIT KIC innovates from speakers including Manuel Heitor, Portuguese Minister of Science, Technology and Higher Education, Eva Kaili, Member of the European Parliament, Viviane Hoffmann, Deputy Director-General of DG EAC, European Commission, Catherine Magnan, Head of Unit Cultural Policy, European Commission, and Martin Kern, EIT Director. The main milestones for the EIT's Call for Proposals will also be presented, as well as discussions on how to prepare for the upcoming call.
The event will be interactive. Participants will be able to interact with speakers in the form of Q&A and polls.
No registration required.
More details and agenda: New innovation opportunity for CCSI - EIT Webinar | EIT (europa.eu)
Stay tuned for updates
Subscribe to our newsletter and receive the latest news and stories from the EU Alumni Community.