35 years of Erasmus+
A real success story: Our partner programme Erasmus+ celebrates its 35th anniversary this year.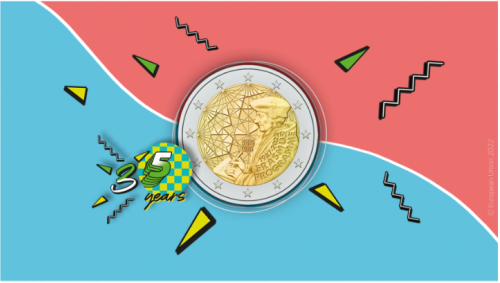 To commemorate such event, the European Commission issued a €2 coin with a single national design by all euro area Member States.
The coin was designed by Mr Joaquin Jimenez, a French medallist who works for the Monnaie de Paris (Paris mint).
The front side of the coin is the picture of Erasmus surrounded by the years 1987 – 2022 and the text 'ERASMUS programme'. On the left you can see the number 35 which stands for the anniversary of the programme.

Origins of the Erasmus Programme
Erasmus stands for "EuRopean Community Action Scheme for the Mobility of University Students" and is an EU funded student exchange programme, started in 1987 to provide learning mobility opportunities to university students. Since then, around 13 million people have taken part in the Erasmus+ programme.
The programme – named after the Dutch philosopher Desiderius Erasmus Roterodamus – supports green and digital transitions and fosters active citizenship and greater participation in democratic life. A core priority of the programme is inclusion; to give the opportunity for more people to learn and participate in transnational projects and reach out to people with fewer opportunities.
Erasmus+ in figures
€3.8 million budget
Almost 640 000 people studied, trained or volunteered abroad
Around 126 900 organisations
20 400 projects
Find out more about our partner programme Erasmus+.