European Union Satellite Selfie
Can you take a selfie from space? The European Union community in Canberra is keen to find out!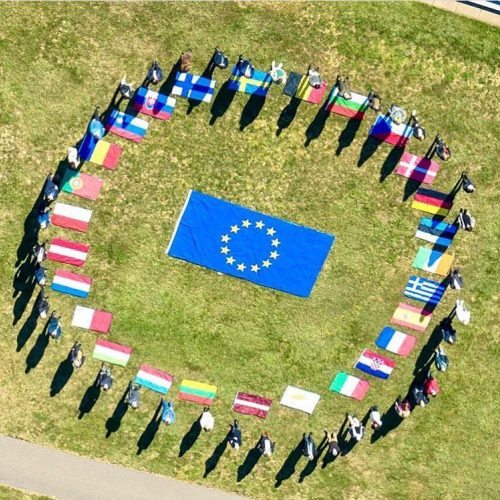 As part of the National Science Week celebrations (15-23 August) satellite company Maxar was tasked with capturing a sizeable selfie of Canberra and its people from 770 km above Earth while travelling at an astonishing 26,850 kilometres per hour.
The @EUinAus team together with colleagues from the European Embassies and High Commissions got their space faces on and struck a socially distanced pose for the ultimate, out of this world, selfie.
The group, including European Ambassadors and High Commissioners to Australia, got together (on two days) at the shores of Lake Burley Griffin to present a display big enough to be seen, and snapped, from space. The colourful display, measuring almost 15m in circumference, features the European Union flag circled by the flags of each of the 27 Member States.

The EU flag is a circle of 12 gold stars on a blue background. The stars stand for the ideals of unity, solidarity and harmony and nothing to do with the number of Member States. This is why the flag has stayed the same over the years. Did you know? This year, 2020, marks 35 years since the EU flag was officially adopted and 65 years since its original design?

We are fairly sure 2020 will also be the first time the EU flag has been photographed from space. But we have to wait to find out when we recieve the Canberra flyover selfie, which will be released by GeoScience Australia. So ... watch this space!
In the meantime, you can find more pics from the #SatelliteSelfie on our facebook page @EUAustralia.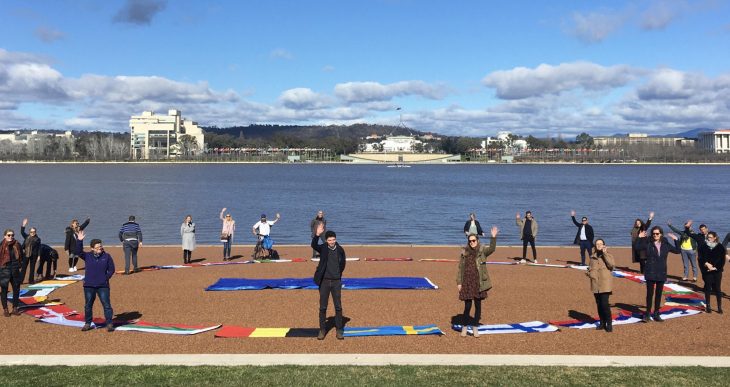 The initiative is presented by the Where You Are Festival with the support of the Australian Government, the ACT Government and co-hosted by Australian National University.
Drone photos: Overall Photography
Photos: Susanna Dunkerley/Jonathan Li - EU Delegation to Australia.