"GCRP was an eye-opening and life-changing experience for me"
Melody Ma is a GCRP 2022 alumna, media tech start-up founder, civic and culture advocate, and writer. She spoke with us about her career, her favourite European city and the podcast platform she founded.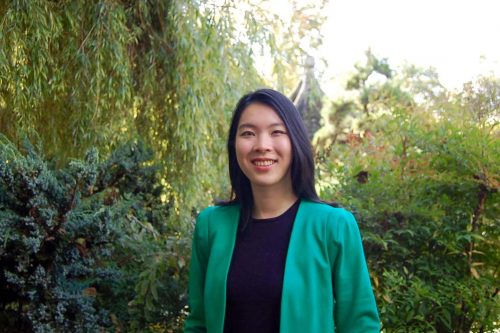 Short Bio of Melody Ma
Melody Ma 馬勻雅 is a media tech start-up founder, civic and culture advocate, and writer. She is the co-founder of Podyssey Podcasts, an online community of podcast lovers. Her writing and cultural advocacy work has appeared in publications across Canada and international media outlets such as The Economist, The Tyee, the Star Vancouver, CBC, Maclean's, the Toronto Star, the Vancouver Sun, Globe and Mail, SCMP, and more. She currently serves on the board of The Tyee and Vancouver Public Library and has served in various governance capacities to Pi Theatre, Ballet BC, the Arts and Culture Advisory Council for the City of Vancouver, and artsScene of Business for the Arts. As a community advocate, she has led efforts to distribute free rapid COVID tests, preserve Vancouver's historic Chinatown and started youth computer coding initiatives in schools across her province.
Tell us a bit about yourself, where do you currently live and what is your current job?
I'm based in Vancouver, Canada. I'm a tech entrepreneur, op-ed writer and culture advocate. I'm the co-founder of Podyssey Podcasts, an online community of podcast lovers. I'm also on the board of the Vancouver Public Library and a local media publication called The Tyee.


How did you start your career and why did you choose it?
I love tech, media, innovation, community-building and their intersections with culture. These have been the constant threads weaving through my life and career.

What is the thing that you enjoy the most about your job?
As an entrepreneur, I like the variety that the role offers because it keeps things exciting. Some days I would be coding and designing the product, other days I'm building community, curating podcasts, and writing editorial.
Tell us about an achievement in your career that you're proud of.
Every time someone finds a great podcast through Podyssey that positively changed their view on life or even simply gave them some joy in the day, I feel like I helped create positive change for someone – and that's an achievement, no matter how incremental it may seem!

How would you describe your experience in the GCRP? In which ways did you benefit from it?
GCRP was an eye-opening and life-changing experience for me. It was the first time I met international peers from all around the world who are doing incredible work in the arts and cultural sectors, and care about the impact they have on the communities they serve. It expanded my worldview and deepened my understanding and appreciation of the impact of culture in our interpersonal relationships and society as a whole.

Tell us a bit about your podcast platform, you call it the "Goodreads of Podcasts". What do you want to create out of it and how do you see the podcasts evolution in the past couple of years?
Every media form has a community-driven recommendation community. For example, there's Rotten Tomatoes and Letterboxd for films, and Goodreads for books, but nothing established for podcasts. When podcasts were becoming an increasing part of the zeitgeist with 60m+ podcast episodes published and counting, my co-founder decided that we wanted to create the recommendation community for podcasts.

We want to know more about your writing, which has been featured in major newspapers in Canada. Which article is your favourite piece and why?
There were two pieces I wrote relating to public art and urban planning that introduced critical dialogue in the public. The first one is about how the City of Vancouver subsidised a then-unknown public mural festival, which helped art wash and gentrify a neighbourhood for developers who were renovicting (Editor's note: renovicting is a portmanteau that describes the process of evicting a tenant due to a large-scale renovation) artists out of those very same buildings. The second one is about re-examining the real estate development-funded public art process in Vancouver due to a then newly unveiled gaudy spinning chandelier public art piece that reinforced the increasing inequities in the city. Art is often viewed as a blanket positive addition to society, but both these op-eds challenged me and the public to think more critically about the multitudes of roles that art can play in our society and the urban spaces we live in.

The past two years were indeed very difficult for everyone. Tell us about your community efforts during COVID.
COVID rapid tests weren't available freely and broadly in BC, the Canadian province I'm based in. So, I decided to take matters into my own hands and partner with a local community organization called Engaged Communities, an innovative infectious disease physician named Victor Leung, and a local health authority to create a new program that handed out free rapid tests to anyone who needed it in hotspot communities. It was one of the most meaningful advocacy campaigns I've done that I'm most proud of.

Let's now talk about Europe, which EU city is your favourite and why?

I still have so many EU cities to explore! But so far, I adore Barcelona because it's not just tech and innovation-forward, but a city that has a plethora of art and culture everywhere you look.

Let's play a game: I'll name three EU cities and you tell me the first thing that comes to your mind:

Vienna: Classical music
Madrid: Spanish fans
Amsterdam: Narrow canal houses

Tell us a quote that you try to live by:

"We'll all be stardust at the end of the day." – Mr. Glen Nagano, my Gr. 5 teacher at Lord Strathcona Elementary School

Can you give us a career advice that you can share with young professionals?

Go wide and deep. Try a lot of radically different things deeply in as many fields as you can. Experiment, learn, and experience all that the world can offer you.
The Global Cultural Leadership Programme (GCLP) is the flagship training programme of the Cultural Relations Platform. From 2016 to 2019, the GCLP has gathered 120 cultural leaders from EU and non-EU countries to develop and strengthen their cultural leadership skills and foster international cultural cooperation. In 2020 it has been renamed and now operates under its new title Global Cultural Relations Programme (GCRP).