How can YOUth shape Sustainable Development in a post-COVID-19 world? Be an ASEM Young Leader!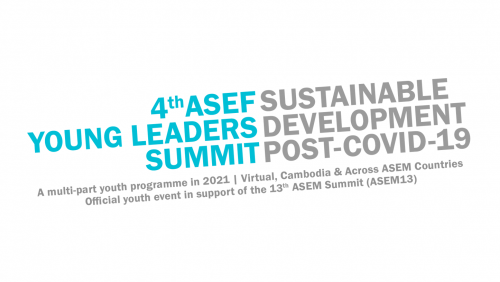 WHAT IS #ASEFYLS4
The ASEF Young Leaders Summit (ASEFYLS) is ASEM's official Youth platform that connects young people with the Heads of States and Governments from 51 Asian & European countries and the political Leaders of the EU & the ASEAN Secretariat.
The 4th ASEF Young Leaders Summit (ASEFYLS4) is a fully-funded 10-month long youth leadership programme connected to the 13th ASEM Summit (ASEM13) in June 2021 in Cambodia. The ASEFYLS4 focuses on 'Sustainable Development in a post-COVID-19 World' and incorporates 3 spheres for youth leadership: 1) self-leadership (you), 2) team leadership (we) and 3) societal leadership (all).
The 4th edition is a hybrid project with collaborative elements taking place virtually, in Cambodia, as well as across ASEM countries. We address 4 thematic areas:
SDG3: Good Health & Wellbeing – Ensure healthy lives and promote wellbeing for all at all ages
SDG4: Quality Education – Ensure inclusive and equitable quality education and promote lifelong learning opportunities for all
SDG8: Decent Work & Economic Growth – Promote sustained, inclusive and sustainable economic growth, full and productive employment and decent work for all
SDG13: Climate Action – Take urgent action to combat climate change and its impacts
ASEFYLS4 is preceded by a virtual ASEFYLS4 Navigators Training, which served as a springboard and capacity building opportunity for youth facilitators who will guide the ASEFYLS4 participants.
Empty heading
WHAT WILL #ASEFYLS4 OFFER?
The ASEFYLS4 programme consists of 3 phases:
Knowledge Building: Monday, 22 February 2021 – 28 May 2021, Virtual
We invite youth to an in-depth knowledge journey and peer-to-peer exploration into Asia-Europe Relations, the Sustainable Development Goals and Leadership with a certified course and training led by the College of Europe in Natolin and the Center for Creative Leadership respectively. Besides focus group discussions & youth collaboration, the highlights of this phase will be Youth Dialogues with ASEM Heads of States and Governments led by ASEFYLS4 representatives. See the programme for more details.
Youth Summit: Saturday, 29 May 2021 – Wednesday, 2 June 2021, Cambodia/Virtual
The virtual or hybrid Youth Summit will take place in conjunction with the 13th ASEM Summit in Cambodia, pending local and international public health & safety guidelines, as well as travel recommendations.
Youth will have the opportunity to deepen their networks and conversations, and also prepare an ASEM Youth Declaration that will be presented by ASEFYLS4 participants at the Opening Ceremony of the 13th ASEM Summit to the ASEM Leaders. Engagement with ASEM Leaders and their Delegations are planned.
Leadership in Action: June – November 2021, Virtual & in local ASEM communities
During this phase, participants will turn theory into action, and jointly work on 15 impactful, community projects on the Sustainable Development Goals across ASEM. See here for more details on the projects.
The 4th ASEF Young Leaders Summit is accessible to all ASEM youth. For more details see the Overview and Frequently Asked Questions.
WHAT'S IN IT FOR THE YOUTH?
Receive a certified course/training by world-leading institutions on Asia-Europe relations and the Sustainable Development Goals, as well as Leadership!
Have the rare chance to interact with ASEM Heads of States and Governments to present the youth voice and even have the once-in-a lifetime opportunity to moderate a Youth Dialogue with an ASEM Head of State or Government!
Bring the youth voice into the multilateral policy arena and contribute to the ASEM Process. Be part of and even featured in the ASEM-wide Youth Leadership Report and have your perspectives reflected in the ASEM Youth Declaration, that will be presented to the ASEM Leaders at the 13th ASEM Summit Opening Ceremony!
Leave a positive mark in local communities across Asia and Europe and bring in your enthusiasm, knowledge and skills to 15 ASEFYLS4 Leadership in Action projects on the SDGs!
Have access to and become a member of the ASEM & ASEF youth community opening doors for cross-regional collaboration and exchange.
Application deadline: Wednesday, 3 February 2021, GMT 23:59

For more details and application form see here.