How to foster collaboration between EU Alumni and the EU worldwide?
New innovative ways for an effective Alumni Community Building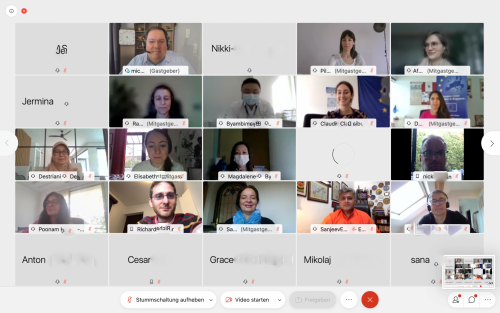 The EU ALUMNI initiative recently held its second webinar for EU Delegations´ staff on how to engage alumni of EU programmes and initiatives in their outreach and Public Diplomacy activities. In total, 58 participants from 26 countries attended the 2-hour-sessions (one for the Eastern and the Western Hemisphere) about "Building Alumni Communities" – a mix of expert inputs and voices from the field, with vital discussions and enriching insights into local perspectives.
EU ALUMNI Senior Expert Sandra Rincón presented the methodological background while the Team Leader of EU ALUMNI, Raphaela Kuehn, highlighted the importance of virtual engagement, for example, via social media. She also pointed out that giving ownership to alumni is a vital aspect for a long-lasting successful relationship between EU Alumni and EU institutions.
Officers from the EU Delegations to Singapore, Deepika Shetty, and the U.S., Sergio Lopez, talked enthusiastically about their experiences in collaborating with alumni on-site, and shared inspiring ideas and helpful lessons learnt with their colleagues. Successful activities like ambassador meetings, invitation of alumni to specific EU Delegation events or the involvement of alumni influencers were presented. It was also emphasised that it is important to recognise the alumni's engagement, e.g., by issuing certificates for previous activities. EU Delegation Singapore also produced several videos in which Singaporean EU Alumni shared their exchange experiences. These videos are available at the Delegation's YouTube channel.
Alumni from different programmes had also the chance to speak. Interviewed by the EU Programme Manager Pilar Campos, they reported on their experiences and expectations on the collaboration with EU Delegations and other EU institutions. All of them highlighted the opportunities a close connection between them can offer for both sides.
With regard to the potential contributions of alumni organisations, Katharina Heil, the current president of the Erasmus Mundus Association (EMA), highlighted: "EMA can be very helpful as first contact point for prospective students. It is also important to remember that the EU Alumni are highly educated people with a very open mind-set and a connection back to Europe but also connections across the world. So, we are able to jump in and establish contact not only in the country of the respective EU Delegation but also beyond!"
As a first step into that direction, Marsela Husen, Erasmus+ alumna from Indonesia and Vice President of EMA, identified that the EU Delegations' awareness of local alumni chapters needed to be increased: "We currently have around 50 Country Representatives worldwide but only some of them are in close contact with the local EU Delegation, even though EMA could help in many ways: for example in promoting activities, giving pre-departure orientation during study fairs as well as trainings and capacity buildings to both alumni and prospective students." She pointed out how active EMA is in most countries and that many EMA events could be jointly organised with EU Delegations.
In this context, Kamalika Bose, Indian alumna of the Global Cultural Relations Programme (GCRP), pointed out that she appreciated the EU ALUMNI initiative's contribution to strengthen the relationship between EU Delegations and Alumni. She strongly advocated to expand the cooperation by establishing "greater modes of engagement, particularly, for early and mid-career Alumni in order to sustain a relationship between the EU and particularly EU Alumni that are independent professionals. This would also help to create greater awareness of different activities and project opportunities which fosters again exchange and collaboration opportunities."
Trisha Taylor, GCRP alumna from the U.S. supported this view in the Americas' session: "I currently work for Washington Performing Arts, which collaborates closely with the local EU Delegation, for example, for artists visits and festivals. Having similar goals with the EU our relationship is beneficial for both parties." As one of many concrete collaboration opportunities, she suggested that EU Alumni could provide a valuable support in the organisation of events "to relieve the EU Delegations' staff while strengthening the network between Delegations and alumni."
The common objectives are also one of the main motivations for EU Alumni to engage with the EU according to Tomás González Bergez, Argentinian alumnus of the European Visitors Programme (EUVP): "We as EU Alumni share the main EU principles, values and goals." He wishes to see "even more activities that group EU Alumni from different parts of the world with EU officials and experts to share different experiences and realities and thus to work towards a better future."
One thing became very clear during the webinar: The interest from both sides in closer cooperation is great and the potential is far from being exhausted. In the third and final session in June, the focus will therefore be on the Delegations' exchange among each other and the question of how they can expand and deepen relations with EU alumni in their respective countries.
For further information, suggestions and ideas, please contact us: eu-alumni@giz.de
Details on the mentioned programmes:
The Global Cultural Relations Programme (GCRP) is gathering 40 young cultural leaders each year from EU and non-EU countries to develop and strengthen their cultural leadership skills and foster international cultural cooperation.
The Erasmus Mundus Association (EMA) is an organisation for students and graduates of Erasmus Mundus Master and Doctoral Programmes.
The European Union Visitors Programme (EUVP) is the key strategic tool of the EU's public, people-to-people diplomacy, enhancing the EU's smart power, global impact and outreach. It was established in 1974 and has since then been jointly managed by the European Parliament and the European Commission.