"We need to visualise the benefits of international exchange so that our international activities will be highly valued by the public."
Tomoko Nakamura based in Washington D.C. works as a First Secretary in the Embassy of Japan in charge of cultural and academic exchange and public diplomacy. She participated in the GCRP in 2022 and told us all about her career, importance of culture exchange, and in what way she perceives Japan and the EU as similar.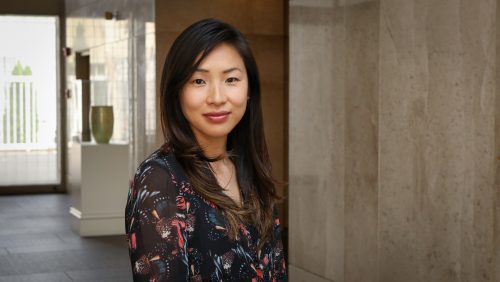 Short Bio of Tomoko Nakamura
Tomoko Nakamura has a background in public policy, intellectual and cultural program management, and grant management. She joined the Japan Foundation (JF) in 2011, and since then, she has been conducting cultural exchange programs in Europe, South East Asia, and the United States. Currently, she is seconded to the Ministry of Foreign Affairs and stationed in Washington D.C. as a First Secretary of the Embassy of Japan in charge of public diplomacy. Prior to her current position, she was posted to the Philippines as Assistant Director of the JF's Manila office in charge of arts and cultural programming as well as human resources and planning.
She is a former participant of the Rotary International's Youth Exchange Program with which she studied in Holstebro Gymnasium in Denmark (2003-2004). She also studied at the University of Bergen and the University of Oslo, and graduated from Tokyo University (MA in Public Policy, 2011).
Born in Tokyo, she is a lover of ballet, travel, and cultural exchange.
Tell us a bit about yourself, where do you currently live and what is your current job?
I'm currently based in Washington D.C. as a First Secretary in the Embassy of Japan in charge of cultural and academic exchange and public diplomacy.
My responsibilities include but are not limited to the following: managing the Japan Information and Culture Center (JICC) of the Embassy of Japan, supervising cultural and intellectual exchange programs between Japan and the U.S., and organizing focus programs and discussion roundtables with local counterparts such as thinks tanks and foundations on topics of mutual interest.
At the JICC, we generally organize exhibitions, film screenings and lectures, collaborating with local museums, curators, scholars and artists to enhance mutual understanding between Japan and the U.S. Community outreach is also an area of interest for me, and we work with local schools and non-profit organizations to bring artists to schools and to introduce Japanese culture to the local community.
How did you start your career and why did you choose it?
Since my childhood, I have been interested in international relations, with a strong interest in refugee issues in particular. At the same time, ballet, which I began learning at the age of six, had a great impact on my life. This led to a longing to study in Europe, the home of ballet, and I went to Denmark at the age of 16.
During my study abroad year, my Danish host family and friends showed great interest in Japanese culture, which was very helpful in integrating myself into a new country. I believed that this was due to the efforts of my forefathers to enhance the attractiveness of Japanese culture and spread it throughout the world, and I wanted to represent my country at a government agency while working in the field of cultural exchange so that the next generation of Japanese people would be as proud of their culture as I was.
As I learned more about Danish refugee and cultural policies, I began to think about the role that culture can play in creating better international relations and a more inclusive society, and I decided to pursue a career in international cultural exchange.

What is the thing that you enjoy the most about your job?
One of the most attractive aspects of my job is that I can get to know a wide variety of people and can continue to gain new knowledge. In the career path of Japanese government agencies, you change positions after two to three years and you are expected to become a generalist rather than a specialist.
Every time you are transferred, the country or region you are assigned to also changes, so every two to three years you will learn about the societies and cultural systems of different countries and regions. This is the first time for me to live in the U.S., and it is very interesting to see how different cultural policies are adopted, such as decentralized and indirect support through the tax system rather than government subsidies.
In Washington D.C., cultural institutions from around the world are engaged in a wide variety of public diplomacy. As a diplomat, I am able to interact with cultural attachés from other countries and learn about their countries' cultural policies without having to leave the U.S., which is a great opportunity for me to gain new insights.
How would you describe your experience in the GCRP? In which ways did you benefit from it?
The format of the GCRP did not involve gaining knowledge from experts as I had initially anticipated. Rather, through a variety of discussions with my peers, I was able to clarify my own perceptions and ideas on the issues and gain insights from dialogue with myself.
Personally, I am an idealist and believe that art and cultural exchange itself are meaningful and that the results of cultural exchange should not be sought or expected in the short term.
However, the field of cultural and academic exchange after World War II is deeply embedded in ideological conflicts and strategic competition between nations. Cultural exchange programs by government agencies must assume the role of public diplomacy, and we need to constantly and continually defend the legitimacy to taxpayers and policymakers of the use of public resources to carry out cultural programs.
Through my participation in the GCPR, I was able to meet colleagues who are making steady progress while being both flexible and balancing idealism and pragmatism. They are all aware of the social significance of their activities, and are committed to making culture and art more accepted in their respective societies. The fact that there are fellow cultural workers all over the world who are moving forward while facing the same problems as myself is in itself a great source of support and encouragement.
Your work is focused on cultural and academic exchange programmes between Japan and the U.S. In your opinion, how important are exchange programmes between countries and what do they add to the students?
The relationship between any two nations ultimately comes down to people-to-people connections. The U.S. and Japan, which once fought each other, are now stronger allies than ever before. This is due to the longstanding friendship and trust that grassroots individuals in both countries have fostered at their respective levels.
It was only after living abroad that I realised that the values I had considered important in Tokyo were not necessarily important or valued in a different society. Later, when I learned about French sociologist Pierre Bourdieu's concepts of cultural capital and social capital, it became very clear to me. The reason I am a cultural attaché today is not because I studied hard. I was born into a background where I could study as much as I wanted, my parents took me to museums and theatres from when I was small, and I was blessed with opportunities to study abroad. If I had suddenly become a refugee as a child and had to live outside of Japan, the cultural and social capital I had built up until then would have disappeared. By participating in international cultural exchanges, students are reminded of how their values are tied to their social environment and they cannot think of their existence as separate from society. I believe that this will make them more tolerant of people with other values, and it is very important in learning how to create a more inclusive society, and in turn, global peace.

Japan is indeed a country that has a distinctive culture and unique traditions. How do you try to keep up these traditions when you're living far away?
My children have spent most of their lives abroad, so I have been trying to make sure that they experience as much of their cultural heritage as possible. My husband is Norwegian and I took maternity/paternity leave in Oslo, but when my children were 1 and 3 years old, I decided to return to work and take them to the Philippines. My husband remained in Norway, so I had to live in a different country and pass on two cultures to my children, Norwegian and Japanese. We have spoken Norwegian in the home, eaten Japanese food, and celebrated both Japanese and Norwegian traditions.
The climate in Washington D.C. is similar to that of Tokyo, and the cherry blossom trees donated by Japan 110 years ago have become a symbol of the city of D.C., and there are major festivals in the spring that celebrate the friendship between the two countries. These events are a great opportunity to become familiar with Japan and to teach my children about Japanese culture while they are in the United States.
Let's play a game: I'll name three EU cities and you tell me the first thing that comes to your mind.
Paris: Opéra national de Paris
Rome: Istituto Giapponese di Cultura
Barcelona: Casa Asia

Where do you see similarities between the EU and Japan?
Like several countries in the EU, Japan is a constitutional monarchy, with the emperor playing an important role as the symbol of the country. When I lived in Denmark, I was surprised to find that the Royal Family is very popular and close to the people. In Japan, the emperor is not physically as close to the people as in the constitutional monarchies of the EU, but a public opinion poll showed that nearly 80% of the respondents said they felt close to the Imperial Family. In particular, when we look at the way the people in EU countries are often united by the words of their royal families in times of disaster or tragedy, I can see the similarities with how the Japanese people would react.

Where do you see challenges in the field of academic/cultural exchange? What could be improved?
For an individual to engage in academic and cultural exchange across borders, he or she must have the motivation that the experience will further his or her career. Unfortunately, however, international experience is not always highly valued, and some people hesitate to leave the country, fearing that they will lose their position while away from their organization. In addition, in the area of fostering Japanese studies scholars, in which I am involved, the number of positions available for Japanese studies scholars at universities and research institutes is declining, and this has led to a decline in the number of young people who want to become Japanese studies scholars.
We need to visualize the benefits of international exchange so that our international activities will be highly valued by the public. In the case of Japanese researchers, the number of positions for Japanese researchers in Europe and the U.S. is decreasing, while research institutions in Japan are hiring researchers from outside the country. We need to increase the mobility of people, balance supply and demand, and further stimulate the need for internationally-minded talent.
Can you give us a career advice that you can share with young professionals?
Be open to any kind of experience. Especially when working as a public servant, you may have to follow decisions that occasionally seem futile or that differ from your own beliefs. There is always context to these decisions, and by trying to find an interest in them, you can discover what makes your job worthwhile. In retrospect, I realize that the experience of working on these tasks has broadened my own horizons.

The Global Cultural Leadership Programme (GCLP) is the flagship training programme of the Cultural Relations Platform. From 2016 to 2019, the GCLP has gathered 120 cultural leaders from EU and non-EU countries to develop and strengthen their cultural leadership skills and foster international cultural cooperation. In 2020 it has been renamed and now operates under its new title Global Cultural Relations Programme (GCRP).