Employability in the International Relations and Business Field
OCEANIA+ (OCEANS in Asia) took place in Seoul, South Korea on 24th June 2022 with theme of Employability in the International Relation and Business Field. The event gathered 15 selected youth in South Korea, in partnership with the Korea-US Vision Association (KUVA), European Union Delegation in South Korea, US Embassy in South Korea and much appreciated support of the Erasmus Student and Alumni Alliance (ESAA) and European Commission.
OCEANIA+ was divided into two sessions, 1st session was focus on career mentoring with the trainer, Mr. Royce Woo Jun Wei, an HR Professional from Google Asia Pacific, Singapore. During the session, the trainer gave the tips and trick and explained how the resume and interview works for the job selection, not only theory, but after that there were practical session where all participant was asked and got the chance to have interview experience.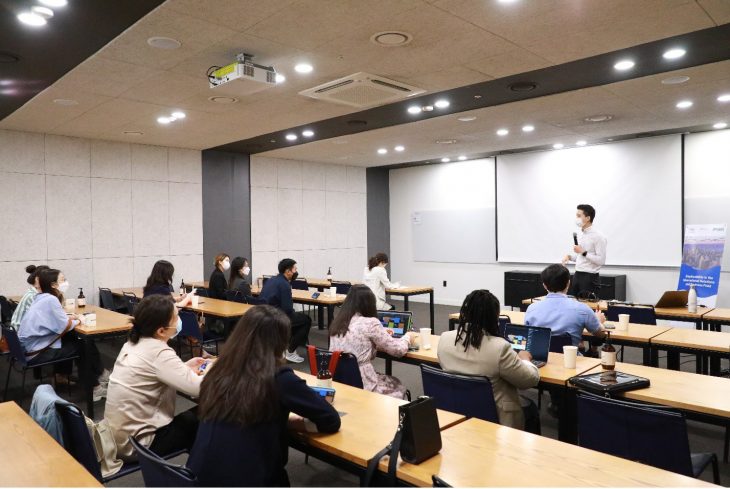 The 2nd session was related to European Union with the first Presentation lead by Minister counsellor and Head of Trade EU Delegation South Korea, Mr Christophe Besse who shared the aspects of the strong relationship and the trade sector majority between the European Union and South Korea, following by Dr. Tomasz Wierzbowski, EURAXESS South Korea Representative who gave information about EU research grant and offers the support related to research cooperation. Last but not least, Erasmus Scholarship Workshop by OCEANS Network Representative, Uswa Alhamid, who Explained about the Erasmus+ Scholarship and its alumni organisations.

As the European Year of Youth is the moment to move forward with confidence, we hope the skill and information that they got during the session can lead them to a better future.