"My experience at the European Commission in Brussels has given me a sense of belonging"
Tian Di joined the first event organised by the EU ALUMNI initiative in Beijing, representing the EU-China Interpreter Training Programme (EUCITP) and was able to meet with more than fifty other fellow alumni from seven different programmes. Although it was not the first time she was participating in an alumni reunion, this time was special, "all of us were sharing the same view, we all feel we are connected". After having participated in the workshop organised by EU ALUMNI, Tian Di would like to remain connected to the alumni community "we belong to a bigger picture or bigger initiative now".
Tian Di participated in the EUCITP in the 2015-2016 promotion. This EU funded mobility project has helped her to strengthen her linguistic skills, equipping her with extensive interpretation competences. She is one of the many success stories of the EUCITP over the last 30 years. However, she is not only proud of her professional achievements, but also of the opportunity this programme offered her to "have a closer look at the European Union".
The programme has been a success because it does not focus exclusively on technical aspects related to interpretation but provides a broader understanding on how the EU works. "It has given me a much closer look at the EU. For me and my promotion colleagues it was very exciting to see how the EU has managed to successfully bring together different member states' visions and interests" explains Tian.

For Tian Di, the most valuable learning she grabbed from this experience is that she could strengthen other capacities than the mere interpretation and language skills. "I was able to develop my own opinion to international matters that seem very far from me, but relevant to the EU, for example with Brexit. I remember that I would notch my British friends to register and vote remain."
"I also feel that my experience at the European Commission in Brussels has given me a sense of belonging" explains Tian Di. She summarises the three main reasons why her connection with the EU is still so strong: a) cultural connection, "I have learned how European cultures being very different, yet are very similar to my original ethnicity"; b) lifestyle, "I really consider Brussels as my hometown"; and c) professionally "I feel connected". For her this connection is now more present than ever, "If I look around in today´s event, there are alumni from seven other programmes getting together under the same roof and sharing experience. All of us were sharing the same view, we all feel we are connected."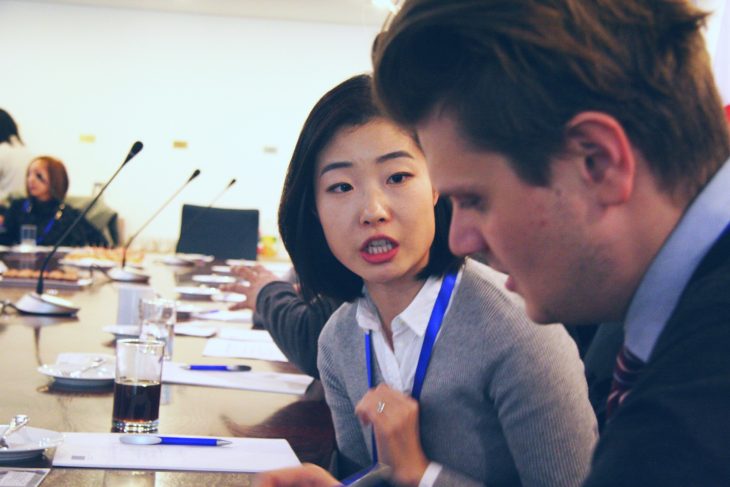 Next steps for alumni engagement.
After her participation in the first event of EU ALUMNI in Beijing, Tian Di was committed and motivated to continue developing the networks and paving the road for a more fruitful interaction, "I would be willing to have the campaign launch in China, raise awareness of our EU Alumni community and help with the visibility and show them how excellent the group of people that we have gathered."

Her participation in EUCITP has helped Tian Di's career transition. " I now work as a partnership specialist at the UN Women and the EUCITP days has made an impact on the way I perceive international affairs and renewed my career commitment to global engagement. Such results are less obvious in the program yet much more profound in the marks that the program leaves on its alumni such as myself." She believes that the engagement with local communities in China "is possible through alumni networks."
Tian Di's future plans for the alumni gatherings pass through the promotion of social innovation to bring different stakeholders to a conversation, fostering longstanding engagements and being a relevant actor providing solutions to social problems. Tian Di does not have any doubt, "I want to help with engaging local alumni in China." Tian Di has already identified some potential partners with "either expertise or the willingness" among the alumni network that was created through this initiative to co-create a project for social innovation.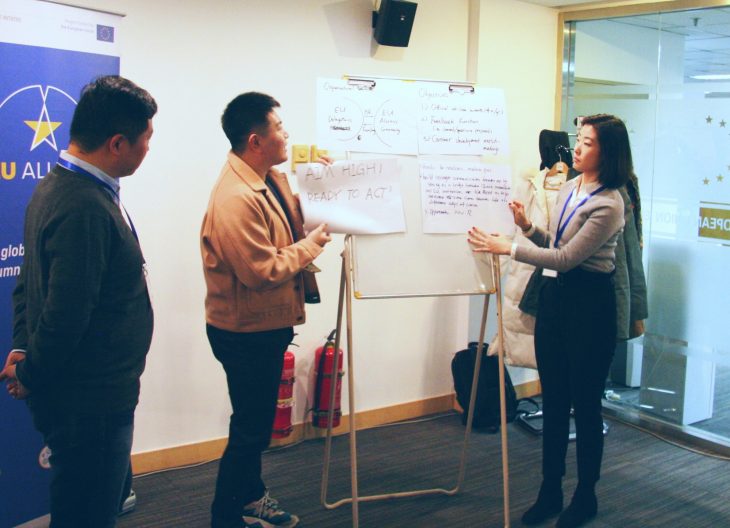 "I would be very willing to support and work for the campaigns in China and make more people aware of our EU Alumni community" insists Tian Di. For her the success of the EU Alumni community in China passes by showcasing the excellency of this group and the opportunities it can provide to other peers, "and this is why I am here today", she emphasises.
Background about the EUCITP
The EUCITP participants include senior policy makers in a wide range of ministries and provincial governments, including a Vice-Minister of the Ministry of Commerce (MOFCOM) as well as various Directors in the MOFCOM and the Ministries of Foreign Affairs, Education, Science and Technology.
The EUCITP is implemented by DG Interpretation in collaboration with the Service for Foreign Policy Instruments (FPI) of the European Commission – under the heading of "Public Diplomacy". The project, which has become a "brand" with an excellent reputation among Chinese partners, consists of two elements:
Cooperation with Chinese Ministries: Chinese officials come to Brussels for a five-month interpretation training course, which also gives them the opportunity to learn how the EU works.
Cooperation with Chinese universities: DG Interpretation provides teaching assistance to two partner universities in China (Beijing and Shanghai).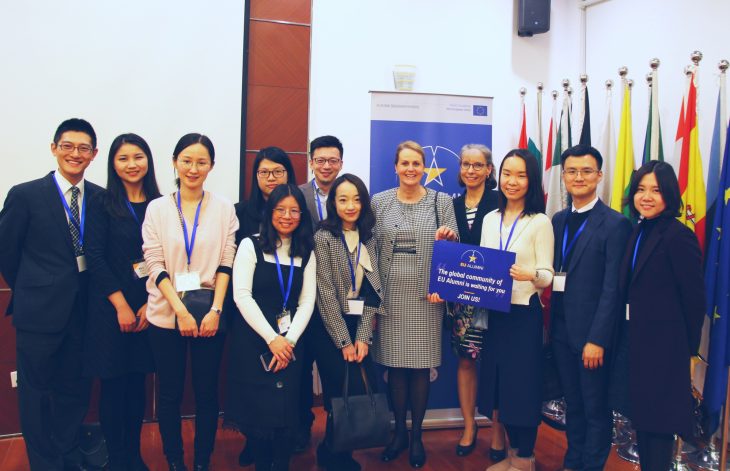 EU-China cooperation in the field of interpretation has a strong people-to-people component. It not only promotes multilingualism, but also contributes to a better understanding of the EU in China. At the same time, it engages with China as an international partner and facilitates interaction in areas such as trade, connectivity, research, security and foreign policy.
For the past 30 years, DG Interpretation has been contributing with its know-how to many interpreter training projects, both within the EU and in countries around the world, such as China, Macao, Vietnam, Cuba, Russia and several African countries.